The year 2021 also marked a period in which progressives in Congress redefined "infrastructure" to mean any program on which they wished to spend money. A bipartisan bill sought to fund infrastructure as it is traditionally understood: roads, bridges, tunnels, transit systems, telecommunications equipment, and the like. A partisan effort sought to spend trillions of dollars on countless policies that had little to do with infrastructure, from child care to free college to generous new tax credits. By the time you read this, one or both of these bills may be law.
Senior fellow Brian Riedl has been an indispensable part of the public conversation over these proposals, educating members of Congress and publishing his analyses in The Daily Beast, the New York Post, National Review, and other outlets. His chartbook tracking federal deficits and debt—released in October—is frequently shared among lawmakers, and his MI report urging Congress to "cut spending for the rich" was the centerpiece of a floor speech by Rep. David Schweikert (R., Ariz.) in May.
Riedl's rigorous analysis drives home the sheer scale of many legislators' spending ambitions. At the outset of budget negotiations, the Democratic leadership in the House and Senate aimed to enact up to $3.5 trillion in spending—and half that in tax hikes, which would drive up the deficit by $1.75 trillion. Some of the policies, like an expanded child tax credit, are set to eventually expire but would very likely be extended, further driving up the costs. Add up all the proposed spending this year, as Riedl pointed out in the New York Post, and you could deposit $60,000 in every family's bank account. The simple fact, as Riedl has explained, is that you can't have all this spending without ultimately hiking taxes on the middle class. With the retirement of the baby boomers and our refusal to reform entitlements, our debt is already on an unsustainable trajectory. Should interest rates ever rise, the costs will be catastrophic.
While parts of America's infrastructure could use an upgrade, the bipartisan infrastructure bill—which is limited to more traditional projects—merits scrutiny as well. As Riedl pointed out, the bill fails to address the major problem of America's exorbitant infrastructure costs. Thanks to factors such as environmental review, labor restrictions, and content requirements, America's infrastructure planning and construction processes are among the slowest, most bureaucratic, and most expensive in the world. As such, even the more modestly scoped bipartisan bill would inevitably drive up the federal deficit more than its supporters let on.
Among the concerns raised by rising deficits and debt are the implications for inflation, interest rates, and monetary policy. In July, Allison Schrager sat down to discuss monetary policy with Mickey Levy of MI's Shadow Open Market Committee (SOMC), Joseph Gagnon of the Peterson Institute, and former governor of the Bank of England Mervyn King.
Specifically, they focused on whether the price increases driving higher inflation in the U.S. are more likely to be transitory or sustained—and what the answer means for the Fed. MI's SOMC hosted other prominent central bankers as well. Federal Reserve vice chair Richard H. Clarida gave a speech on the Fed's new framework in April, and a forum in October included keynote remarks from Federal Reserve Bank of Cleveland president Loretta Mester.
Already a regular contributor to City Journal, Schrager became a regular columnist for Bloomberg Opinion this year, ensuring that her commentary on economics and finance will continue to shape important policy debates in the year ahead. In December, she will launch a breakfast event series in which she will discuss pressing policy concerns with leading economists, kicking things off with R. Glenn Hubbard, the Russell L. Carson Professor of Finance and Economics at Columbia and former chairman of the White House Council of Economic Advisers.
Noah Williams, the Juli Plant Grainger Professor of Economics at the University of Wisconsin, joined MI as an adjunct fellow in May. Williams provides monthly analysis on the Bureau of Labor Statistics' jobs report and has written extensively for City Journal on matters such as the likely tax consequences of the 2020 election and the role that generous federal benefits have played in America's labor market recovery. In an October commentary for National Review, Williams argued that even as enhanced unemployment benefits of the pandemic had ended, a new slate of government transfer payments was making joblessness more attractive than it had been in the past.
As for how to prepare for the next pandemic, Randall Lutter's recent report stressed the need for private-sector involvement. Lutter points out that national pandemic preparedness policy needs to include the creation of market signals for private organizations to prepare for pandemics and hedge against pandemic-related risks, noting that catastrophe bonds and prediction markets can provide prices for the risks of future events. Looking at prediction markets, he suggests that certain sectors could insure themselves against future pandemic-related downturns or upswings after noting the disparate effects of Covid-19 on various industries.
Lutter calls on the federal government to correct regulatory and legal obstacles impeding the growth of robust prediction markets for pandemics and pandemic-related catastrophe bonds, including measures to allow such bonds to trade on secondary markets.
While federal regulatory obstacles to innovation and growth are reasonably well documented, the role of state litigation in shaping national economic activity is less well understood.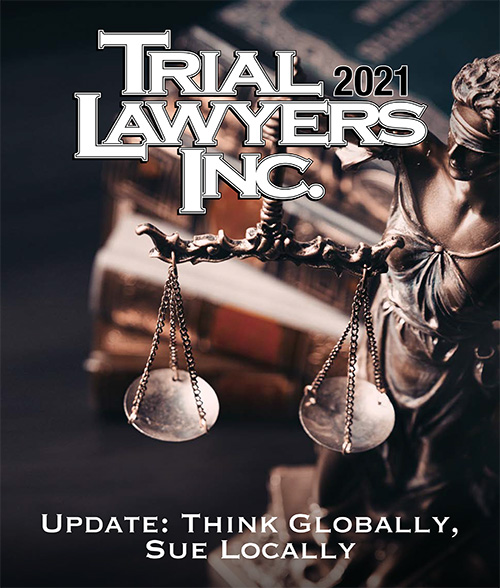 MI director of legal policy James R. Copland focused his annual Trial Lawyers, Inc. report—"Think Globally, Sue Locally"—on the efforts of some states and localities to litigate their way to their national policy objectives. By filing lawsuits against firms and industries—purporting to fight everything "from gun violence to opioid addiction to the most global of problems: climate change"—states, localities, and their litigators often seek to resolve national controversies, sometimes in conflict with laws that Congress has enacted. By contracting out litigation to private parties, states can invert federalism, seizing the power to dictate national policy on controversial questions. Precisely such concerns—the "unneighborly regulations" of some states "interfering" with others' affairs—animated the Constitutional Convention in Philadelphia, as Alexander Hamilton wrote at the time. That the "New Antifederalists" have formed a symbiotic relationship with the avaricious attorneys of Trial Lawyers, Inc., Copland writes, should give pause even to those who are sympathetic to their policy goals.
While federal regulatory obstacles to innovation and growth are reasonably well documented, the role of state litigation in shaping national economic activity is less well understood.
On health care, meanwhile, senior fellow Chris Pope made waves with his City Journal piece "Filling the Wrong Gap," which addressed proposals to add a dental benefit to Medicare. Pope pointed out that the proposed dental benefit would cost $60 billion a year, that the spending wouldn't be targeted at the low-income adults who most need it (including non-seniors), that poorer seniors may still balk at the required coinsurance payments, and that dental coverage is already available through Medicare Advantage.
Pope also testified before the U.S. House Ways and Means Committee's Oversight Subcommittee in October, on the subject of maximizing healthcare enrollment. And in June, MI released Pope's report about the promise of allowing for greater health-care competition across state lines. "For insurance to be compatible with interstate competition, insurers need to be allowed to price it in proportion to an individual's risks, and individuals must be allowed to retain insurance renewability guarantees as they move from state to state." As Pope points out, pricing insurance in proportion to individual risk will require removing the Affordable Care Act's community rating requirement. And state-to-state portability will require Congress to allow the purchase of Short-Term Limited Duration Insurance across state lines, a move that would lower premiums and facilitate competition among medical providers nationwide—exerting downward pressure on the cost of care.
Failure to appreciate the practical and moral importance of free enterprise, along with an insatiable progressive appetite for bureaucratic and regulatory growth, continues to threaten American opportunity and prosperity. In the year ahead, MI scholars will continue to advance policy proposals that foster economic dynamism and growth, fighting for government that is fairer, more effective, and more affordable.
Photo: gollykim/iStock